An experience by Raqi Syed & Areito Echevarria
"In this piece, the content as well as the formal choices build a demanding narrative and create empathy with the personal drama unfolding before our eyes"
— Agnès Alfandari, digital director at the French Institute.
Synopsis
Love, loss, and black holes. Minimum Mass is the story of couple who experience a series of miscarriages and come to believe their children are being born in another dimension. Set in contemporary Rotorua, New Zealand and in the speculative world of black holes.
It is a 20 minute interactive narrative virtual reality short. MINIMUM MASS takes place in a real-time, photorealistic computer generated story world (© Unreal Engine) and has been developed as an in-headset experience. In every scene in MINIMUM MASS scenes unfold as dollhouse-sized dioramas in the center of the play space. The participant can view the action from multiple perspectives. They can freely move around set pieces as if walking around a diorama in an art gallery. They can also grab the dioramas and move them up and down to find visual and audio cues that shed new light on characters and subtext.
Partners
A FLORÉAL, LIKE AMBER production with support from the Centre national du cinéma et de l'image animée (CNC), REGION AUVERGNE-RHONE-ALPES, UNIFRANCE, EPIC MEGA GRANT, SUNDANCE INSTITUTE'S NEW FRONTIER STORY LAB, KALEIDOSCOPE, NEW ZEALAND FILM COMMISSION, and VICTORIA UNIVERSITY OF WELLINGTON
• Festival d'Annecy - Cristal for the best VR work
• Viborg Animation Festival - ANIDOX:VR Award 2020
• South by Southwest (SXSW) 2022
• Doc Edge Festival (2021)
• Tribeca Film Festival (2020)
• Venice VR Expanded (2020)
• NewImages Festival (2020)
• Festival du Nouveau Cinéma (2020)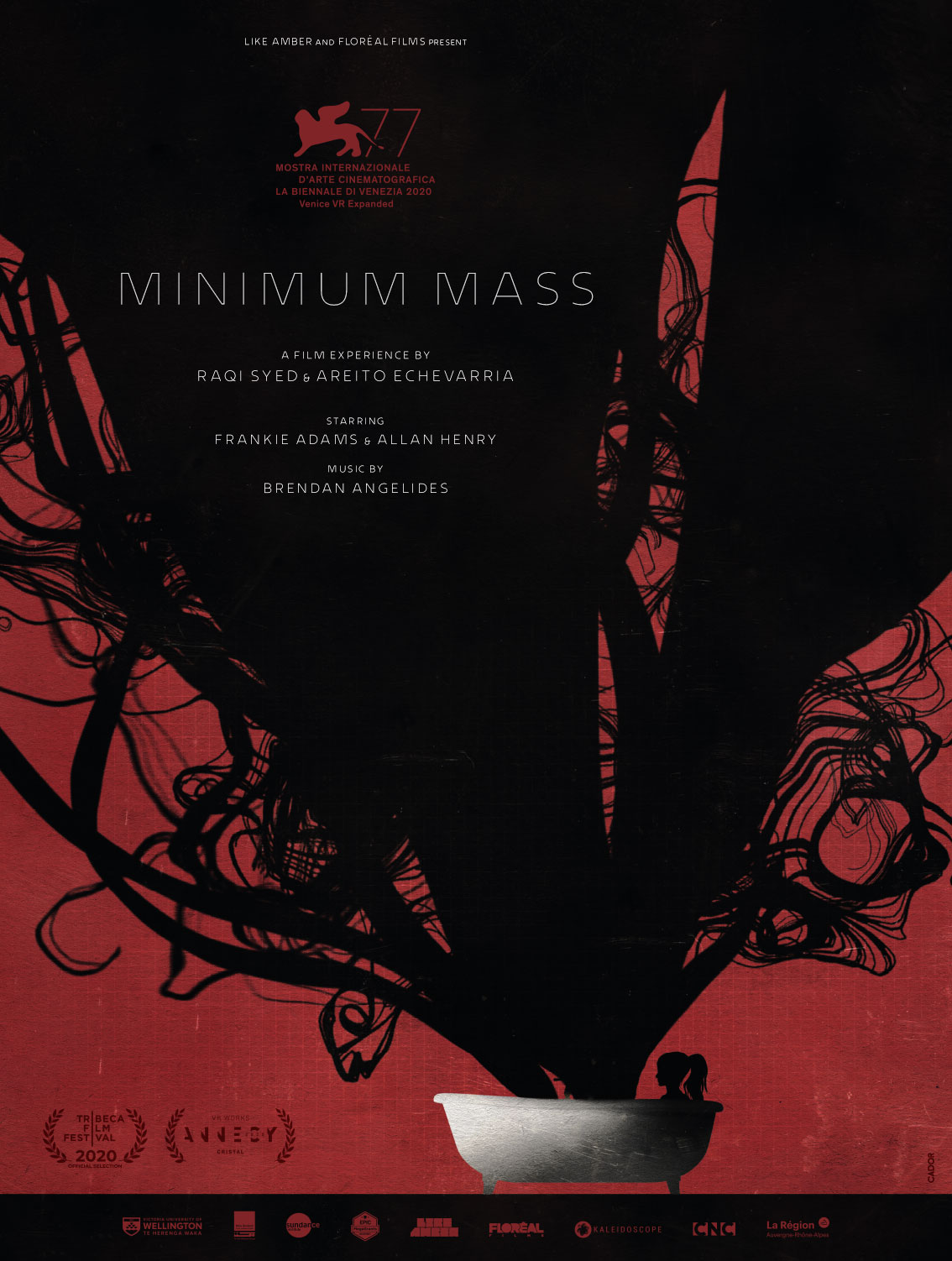 Countries
France, New Zealand, USA

TECHNIQUE
Animation, Motion Capture (Unreal Engine)

GENRE
Fiction

SUB-GENRE
Science-fiction

Voices
Frankie Adams et Allan Henry

Directing and screenplay 
Raqi Syed et Areito Echevarria

Music
Brendan Angelides (ESKMO)

Cast 
Liz Mullane

Motion Capture
John Aberdein, Mac Pipson

Visual effects
Sunny Teich

VR Studio
Small, Albyon, Mimic
Countries
France, New Zealand, USA

TECHNIQUE
Animation, Motion Capture (Unreal Engine)

GENRE
Fiction

SUB-GENRE
Science-fiction

Voices
Frankie Adams et Allan Henry

Directing and screenplay 
Raqi Syed et Areito Echevarria

Music
Brendan Angelides (ESKMO)

Cast 
Liz Mullane

Motion Capture
John Aberdein, Mac Pipson

Visual effects
Sunny Teich

VR Studio
Small, Albyon, Mimic