A multiformat project by Michelle & Uri Kranot
Cast
Anne Dorval (french voice) Michelle Kranot (english voice)
Synopsis
Inspired by the iconic Carl Sandburg poem
The Hangman at Home
(1922), this piece explores themes of acknowledgement and participation. It is not about hanging people, but about the awkward intimacy that comes with being human, and the connection between spectator, witness, and accomplice.
The Hangman at Home
ultimately reveals that we are all more alike than different, while raising questions of responsibility.
This projects is available in different formats:
• THE HANGMAN AT HOME, short film (12 min)
• THE HANGMAN AT HOME - VR, Virtual Reality (1 user, 25min)
• WE ARE AT HOME, Virtual Reality (Multi-user installation, 45min)
Partners
A LATE LOVE PRODUCTION, FLORÉAL, MIYU PRODUCTIONS and OFFICE NATIONAL DU FILM DU CANADA (ONF) production with support from the DANISH FILM INSTITUTE and WEST DANISH FILM FUND. With support from the CNC (Expériences Numériques et CVS), the REGION NOUVELLE-AQUITAINE, the DEPARTEMENT DE LA CHARENTE, POLE IMAGE MAGELIS and UNIFRANCE.
• Cannes XR - Best immersive experience
• New Images festival - Golden mask award
• Bucheon International Animation Festival - Best VR
• Krakow Film Festival - Golden Dragon - Best short film
• 77th Venice International Film Festival - Grand Jury Prize for the best VR work
• Tribeca Film Festival (2021)
• Annecy Film Festival (2021)
• International Film Festival Rotterdam (IFFR)
• Festival du nouveau cinéma de Montréal (2020)
• Geneva International Film Festival (GIFF)
• Ottawa International Animation Festival (2020)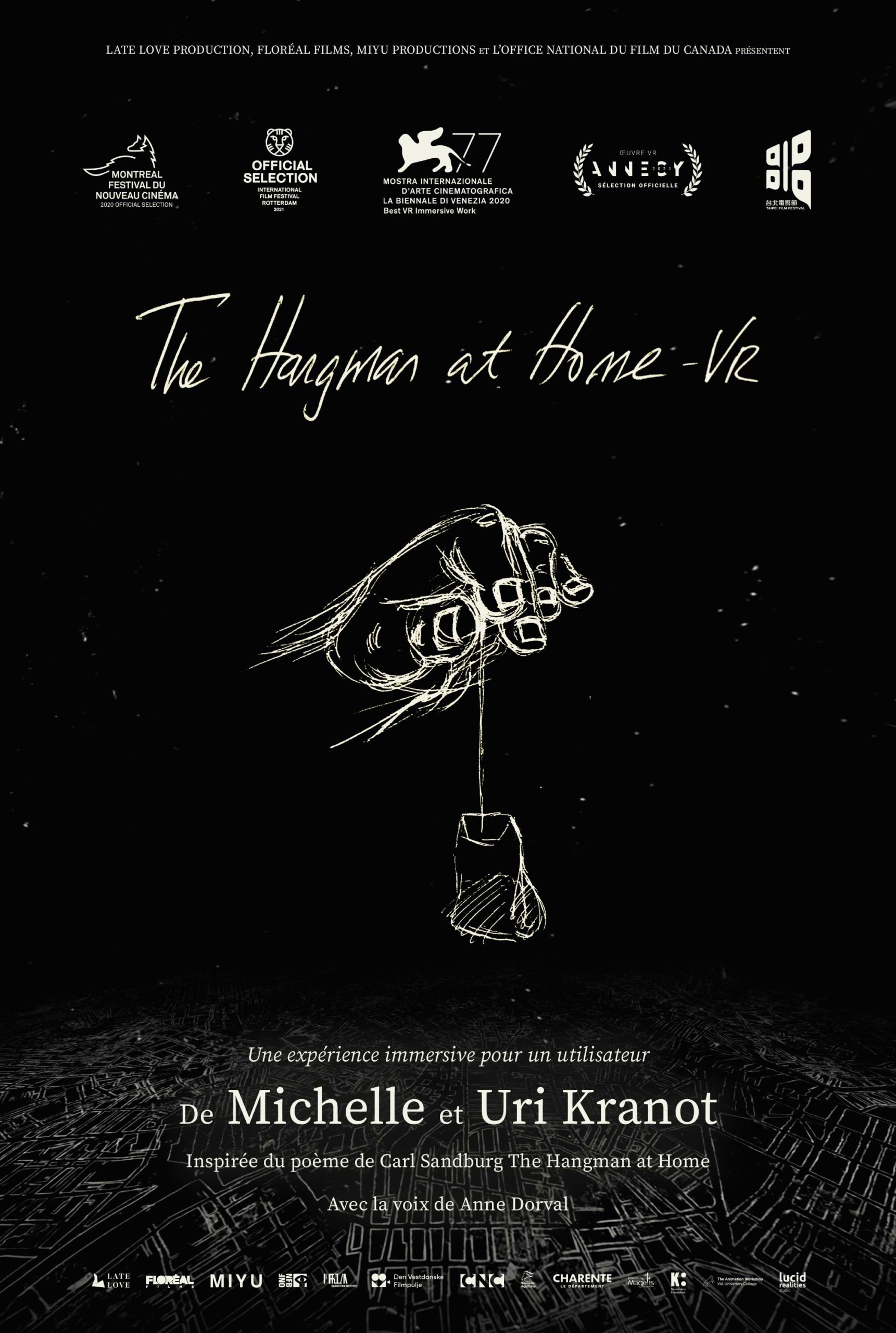 Format
Animation (Multi-formats)
Countries
Denmark, France, Canada

TECHNIQUE
Animation (Unity)

Directing and screenplay 
Michelle and Uri Kranot

Music
Jody Ghani Nordby, Thomas Richard Christensen, Uri Kranot

Sound design
Pierre-Yves Drapeau

Animation 
Philip Piaget, Michelle Kranot, Uri Kranot, Juliette Viger, Mohammad Babakouhiashrafi, Fabien Corre, Morten Andersen
Format
Animation (Multi-formats)
Countries
Denmark, France, Canada

TECHNIQUE
Animation (Unity)

Directing and screenplay 
Michelle and Uri Kranot

Music
Jody Ghani Nordby, Thomas Richard Christensen, Uri Kranot

Sound design
Pierre-Yves Drapeau

Animation 
Philip Piaget, Michelle Kranot, Uri Kranot, Juliette Viger, Mohammad Babakouhiashrafi, Fabien Corre, Morten Andersen